Philippines is not just popular for its pristine islands and colorful festivals but it's also famous for its oh-so-good street food that will definitely make you drool. Here are the best street food in the Philippines you must try!
Here is the list of street foods in the Philippines that every traveler must try!
1. Isaw
One of the most popular Filipino street foods is the isaw Philippines. It is pork or chicken intestines that are typically barbecued or deep-fried. Don't worry because the intestines are cleaned thoroughly before grilling it.
Fun trivia: Isaw Philippines has been around since the 1970s. When livestock supply was abundant in the 1950s, street food vendors opted to sell more expensive cuts of meat, but when the economic crisis hit the country in the 1970s, the scrap parts of pork and chicken suddenly became valuable and that's when they started to sell isaw. Street foods in the Philippines articles aren't complete without isaw.
2. Betamax
Betamax is the blood of pig or chicken that is coagulated and shaped into squares. It resembles the box-type video cassette tape called Betamax, hence the name. Although it's made with blood, betamax doesn't have a foul smell or taste. In fact, it has a mellow to bitter flavor that calls for spicy vinegar on the side.
3. Cheese sticks
Unlike France's breadcrumb-coated and ooey-gooey mozzarella sticks, the Pinoy street food style cheese sticks uses cheddar cheese in the spring-roll wrapper and deep-fried until golden and crispy. It is served with a pink dip made with ketchup and mayonnaise combined. Every traveler must try this street food Philippines.
4. Fishball
Because almost everything in the Philippines is becoming expensive, the Filipinos came up with a pickup line that says fish balls na lang ang hindi nagmamahal that means fishballs Philippines are the only thing that remains cheap while other prices of goods continue to hike. It's actually the cheapest street food in the Philippines that's only PHP 0.50 per piece.
Fishballs Philippines are groundfish, usually made from pollock or cuttlefish and lots of flour, that are flattened and skewered before deep-frying.
5. Squid balls
Squid balls Philippines resembles fish balls, only it is fluffier and doesn't become limp when deep-friend. From its name, the main ingredients of squid balls are squid, all-purpose flour, cornstarch, garlic, salt, and pepper. The squid balls Philippines is one of the most bought and popular street foods in the country.
6. Sorbetes
Sorbetes or dirty ice cream is a famous Pinoy treat that was introduced during the American occupation. This sweet treat is peddled in the streets by the sorbetero who scoops the ice cream into cones or bread buns from colorful wooden pushcarts.
Dirty ice cream isn't really, well, dirty. The term is only used to differentiate this dessert from the store-bought "clean" ice cream. The sorbetes is usually made from coconut or powdered milk and cassava flour. Popular flavors include chocolate, cheese, ube, mango, and langka.
Kikiam is a Filipino street food that was originally taken from Chinese cuisine and authentically consists of minced meat and vegetables. But unlike the Chinese version, the kikiam Philippines contains fish meat instead and a lot of fillers. They are brown and about the size of a finger.
8. Banana cue
Banana cue is a sweet treat on-the-go made of deep-fried bananas coated in caramelized brown sugar. Like the other famous street food in the Philippines, pork barbecue, the bananas are skewered. An alternative for this is camote cue, which uses sweet potato instead.
9. Turon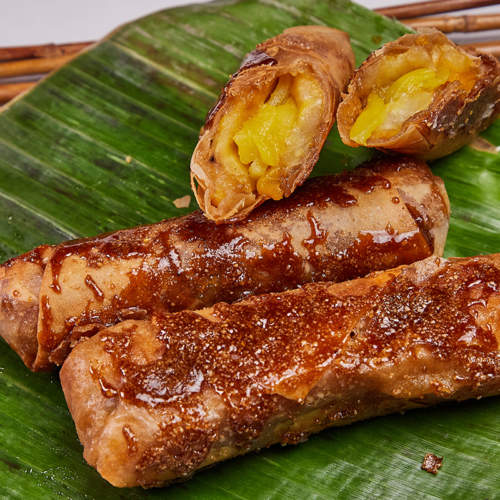 Another banana sweet street food is turon which is one of the most famous street foods in Manila. It's a popular food-on-the-go for Filipinos as this can be easily eaten everywhere. The bananas are cut in half and wrapped in a spring roll wrapper. It's also deep-fried and coated with caramelized brown sugar.
10. Taho
No time to have breakfast and looking for a quick morning fix? Taho is every (rushing) Filipino's best friend. And for some, their mornings are not complete without taho. It's made of fresh soft or silken tofu, arnibal syrup, and sago pearls. This is available in almost every part of the Philippines. What's cool here is that you don't have to go to a certain place just to buy taho because it will come to you, at your doorsteps, literally.
11. Chicken skin
Another famous street food Philippines is the chicken skin. It is literally made of chicken skin covered in batter and deep-fried until crispy and golden brown. This Philippines street food is the go-to snack of students and those who are saving some money because chicken skin is actually filling and cheap! You can score a cup of chicken skin for only PHP 10! And you want to have a heavier meal on a budget, just buy rice in the nearest eatery and pair it with chicken skin, then you're good!
12. Balut
If you've been searching for a list of street food in the Philippines, you've already probably encountered the most talked-about Filipino delicacy in some street foods in the Philippines articles: Balut.
It is a 16 to 21-day old fertilized duck egg that contains not only a yolk but also a semi-developed duck embryo that's eaten from the shell! Disgusting for some but with a bit of getting used to, you'll finally understand that this exotic Filipino street food is something you must try.
12. Kwek-kwek
This famous Filipino street food has quail eggs in it and the brightly-colored orange that covers it is made of batter. Most of its goodness relies on its sauce and street food vendors have their own recipe. The best choice would be vinegar with chilis and garlic.
And here's an interesting trivia about the history of kwek kwek. According to Esquire Magazine, "a local legend details that kwek-kwek was accidentally invented when a balut vendor in Cubao dropped her merchandise. Not wanting to waste what remained of the balut, she peeled off the shells, rolled the eggs in flour, and fried them. Kwek-kwek supposedly refers to bird chirps."