Your guide to PS5 stock, updated daily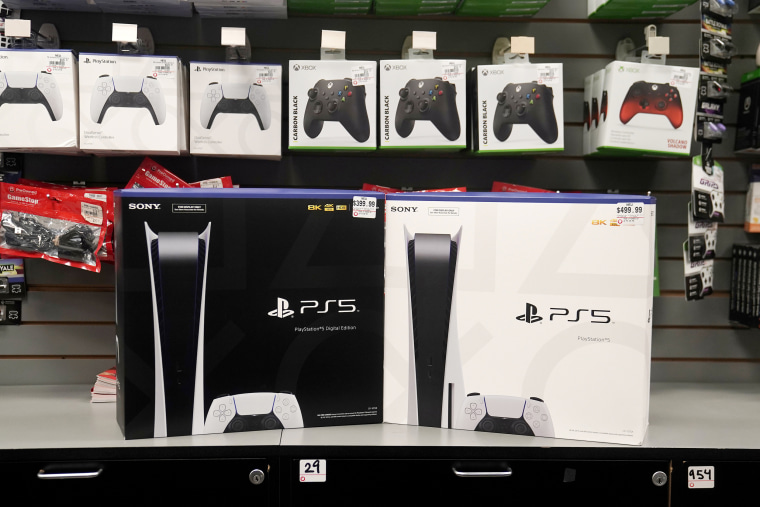 It's a fresh week, so it's time to be optimistic about the PS5 restock updates coming in a little more frequently. Last week wasn't great for PS5 stock drops, so hopefully this week should be better. But, while we can't guarantee stock, we can confirm we will be living and breathing restock updates. We've been following the patterns and trends since before the console launched last year, and are dedicated to bringing you the latest info.
So it's a good time to bookmark this page for all the hot PS5 restock updates. Whatever model you want, one with a disc slot or that slightly tweaked new PS5 Digital Edition model, make sure you follow us on social media, as we'll keep you updated about any incoming PS5 stock there too.
You'll find all the major retailers that have offered the most PS5 restocks in recent months just below.
We would heavily recommend sticking to these tried and tested stores, rather than heading over to resale sites. Scalpers are charging extortionate prices for the consoles they've managed to snap away from consumers over the last few months, and with more PS5 restocks on the way it's just not worth paying double the price today.
On our end, the only time we'll show you something over the basic asking price of the PS5 is if has some bundled extras, but as our lonely PS5 bundles page would attest, we'd just concentrate on trying to find the console on its own for now. Fingers crossed we won't be having to wait for November's Black Friday PS5 deals to find stock.
If you're able to bag one, be sure to head on over to our best PS5 accessories and best PS5 headsets guides to complete your setup.
Where to buy a PS5: check these stores for stock
Let's have a closer look at some retailers below. We'll let you know what they've been up to lately and how likely they are to get PS5 restock updates any time soon.
WHERE TO BUY PS5 – USA

Amazon – last PS5 restock on September 2
For some super strange reason, Amazon decided to unleash a small amount of PS5 stock the day after Prime Day finished. But despite the strange move, the stock still sold out almost straight away. Keep checking those links for more random drops. Remember though, a PS5 should be $499 and the Digital Edition is $399, so don't get caught out by third-party listings that often appear.
VIEW DEAL

Walmart – last PS5 restock on August 25
The traditional Thursday PS5 restocks might well be back folks. Sometimes you'll see a time on the listing page when PS5 stock is set to go live on the day. If you just miss out, stick around as it usually updates with another time shortly after for a second or third resupply the same day.
If you fancy giving Walmart Plus a go for free right now by the way, for free speedy delivery, discounted fuel, and other benefits, there's currently a 15-day free trial.
VIEW DEAL

GameStop – last PS5 restock on August 25
Things are picking up at GameStop with PS5 stock seemingly coming in at least once a week on a regular basis recently. Wednesdays or Thursdays seem to be your best bet. Bundles are often available, so if you spot any you like, dive in as they sell out (slightly) slower than solo consoles.
VIEW DEAL

Target – last PS5 restock on July 30
After a long period of sticking with PS5 restocks on a Wednesday or Thursday, Target has really started messing with the formula of late. Friday was a thing, then all of a sudden we now have a Monday drop. The early starts of 6-10am ET seems to be holding though and stock is dependant on where about in the US you are. So throw in your zipcode and try your luck!VIEW DEAL

Best Buy – last PS5 restock on August 12
This store hasn't been as prolific of late, but given the huge reach we'd never count it out. We've given up trying to predict Best Buy PS5 days as the Thursday/Friday pattern it once favored has been all over the place lately with weekend and Monday drops popping up at random. Great, more randomness.
VIEW DEAL

12-month PS Plus subscription (US) | $59.99 $37.79 at CDKeys
PlayStation Plus is an essential extra for your new PS5 as you need it to play online. It also bags you a bunch of free games each month, plus access to a selection of classic PS4 games playable on PS5. Chances are your old sub expired while you were waiting for a PS5 anyway at this rate. If it hasn't though, you can stack a new one directly on top. Save £10 in the UK and get it for £39.99.
VIEW DEAL
WHERE TO BUY PS5 – UK

Amazon
Various Amazon websites in mainland Europe have had stock recently, so we're thinking a PS5 restock drop could be UK-bound at any moment. Keep trying your luck as Amazon hasn't had anything for a while, so the next shipment could be a big one.
VIEW DEAL

Very
Very has been quiet for a PS5 restock since March. When it does get it, there's often an online rolling queue which perhaps gets around the scalper bots problem, giving more genuine buyers a shot at finding the PS5 in stock. Note: Very often deletes the PS5 product listing page when out of stock, so you might have to search manually for the PS5 on the site.
VIEW DEAL

Currys
The Currys website has been one of the best in the UK as far as bricks and mortar stores adapting to online go and it's been a regular on our PS5 restock updates alerts over the last few months. It often gives people a heads-up on when the next chance to buy a PS5 online will be, although we're not massive fans of having to join a digital queue on the busier days (get yourself signed in and everything in advance folks next time stock is coming), we'll keep you updated here next time that's announced too. Currys has also just launched an online PS5 ballot system for a chance to buy one in person, so that's a hat more than worth throwing your name into if you're tired of the search.
VIEW DEAL

Argos
Calling all you night owls, Argos might be your best store to buy a PS5 from while stock is this bad nationwide. That's because the store tends to put stock online in the middle of the night, often around 3 or 4am. There's very little, if any, warning ahead of time too. We often check out the PS5 stock rumor mill first thing on Twitter in the morning and have seen plenty of threads from frustrated day walkers, although nothing so far this week.
VIEW DEAL
WHERE TO BUY PS5 – CANADA